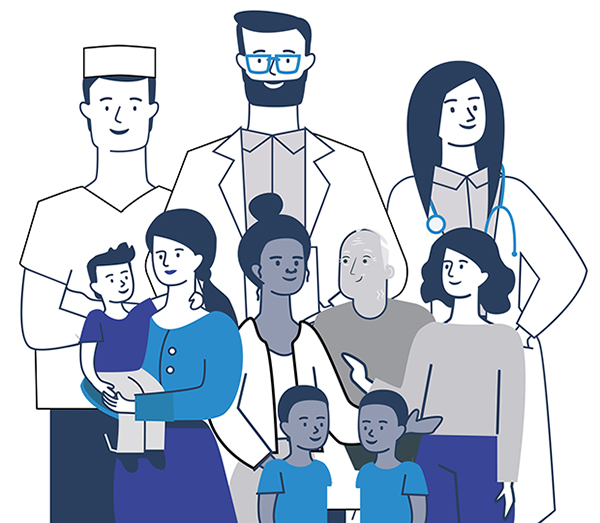 Telehealth,
an ultimate game changer?
Do you remember your last visit to the doctor? How long did it take you to get an appointment? Did you wait with the other patients in the clinic waiting room? How many times a year are you looking for your medical book? Do you have concerns about your parents or grandparents when it comes to taking medication? And what about you, doctors, are you worried about physical contact with an infectious patient? 
These and many other issues are only a fraction of the current healthcare system. However, explore with us new trends that are slowly beginning to find their place.
"Telehealth is defined as the delivery and facilitation of health and health-related services including medical care, provider and patient education, health information services, and self-care via telecommunications and digital communication technologies.
Live video conferencing, mobile health apps, "store and forward" electronic transmission, and remote patient monitoring (RPM) are examples of technologies used in telehealth."

[1]
Electronics and modern technologies surround us on a daily basis. We simply call a taxi via the mobile application, read books in e-form, and discover different reality through "glasses".
Development and technology are advancing at rocket speed, and we, at Scase, want to bring them to every home, clinic & hospital, where they can make life easier and, above all, save it.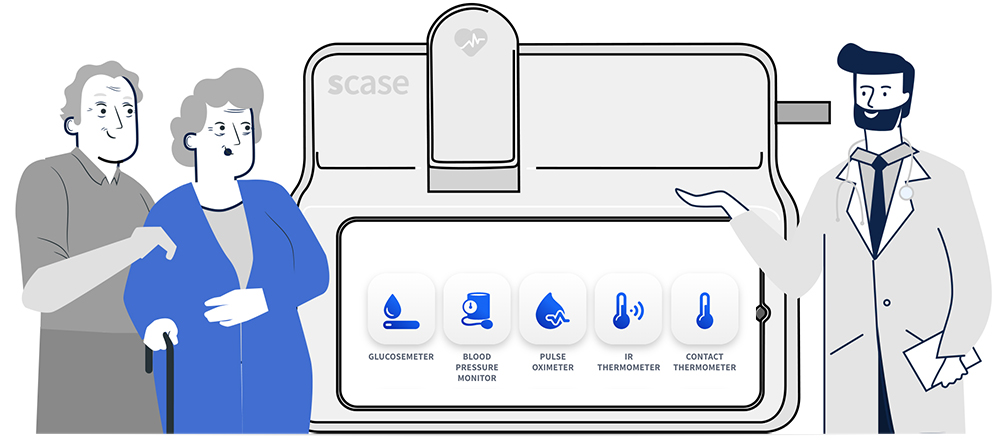 Healthcare
in comfort of your home
Currently, according to the European society of cardiology, cardiovascular disease causes 45% of all deaths in Europe, scary, right? [2]
Besides, it is shown that appropriate inpatient and outpatient disease management is critical for patients with heart disease as about 50% of chronic heart failure patients are re-hospitalised within six months of discharge. [3]
A key element for the successful management of chronic diseases is therefore telemonitoring, which allows patients to consult their difficulties with their physicians via the Scase telemedicine platform from their homes without being exposed to potential disease transmission while waiting for treatment.
The solution provides the patient with a complete screening of vital signs, drug-taking plans, access to a wealth of information, electronic registration and measurement results, increases patient participation through automatic reminders, reduces stress from visiting a doctor and saves patients time in the form of the flexibility of their work schedule.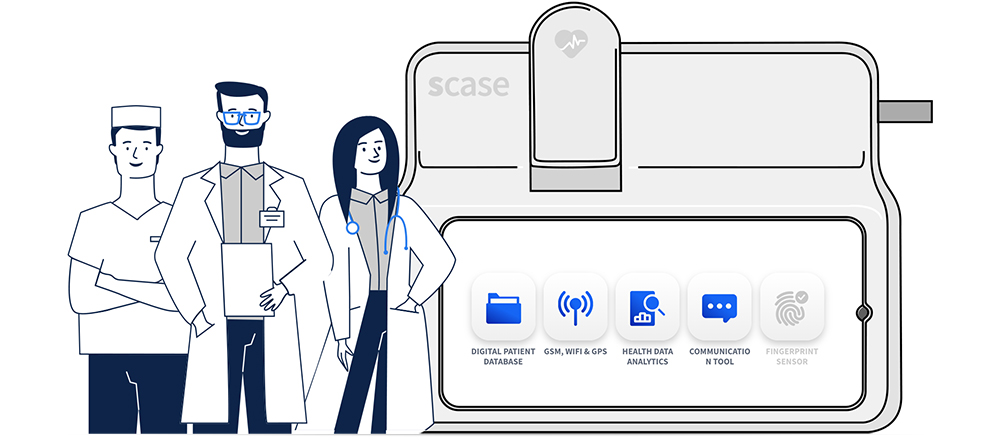 Medical
professional diagnostics
Scase also offers to healthcare professionals operating in clinics, social and nursing homes, NGOs, outreach programs a portable, compatible and affordable patient monitoring and screening solution.
Healthcare professionals are thus able to measure & digitally record patient information, easily assign a photograph of the defects and automatically transfer all data from the device to the Scase computer platform. The head nurse or doctor has access to this and can effectively evaluate, monitor and compare the measured data and the health status of the client or patient over time. General practitioners or specialists have space for remote monitoring of the overall condition of patients and its changes, early diagnosis of deviations of vital functions or treatment settings.
To sum it up, recent research published on MDPI shows, up to 89% of patients are prepared to accept telehealth as an appropriate equivalent of physical, medical care.[4]
So, are you looking forward to 21st-century healthcare?